You may consider your cat to be another member of the family, or at least an adorable roommate. Show your appreciation for your furry friend by giving them presents that they will love—you don't have to buy fancy presents at a specialty pet store, you can make them at home on a budget. So, if you feel like spoiling your pet, get out your craft supplies and make one or all of these gifts.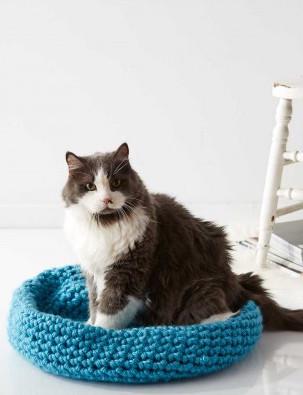 Pet Bed
Since you already treat your cat like a king or queen, make them their own royal throne—crochet them a pillow bed out of soft chunky yarn. If you don't know how to crochet, this is an easy enough project for a beginner—go to the website Yarnspirations to find their Crochet Pet Bed or Cat Nap Nest, and follow the patterns provided. You will also find a huge selection of acrylic yarn online at Yarnspirations, in a variety of beautiful colours for your pet beds or other crafting projects.
Catnip Yarn Balls
Everyone knows that cats love playing with yarn balls, but there is one way you can make them love yarn more than ever: catnip yarn balls. You will need yarn, a hot glue gun, dried catnip, a paintbrush, quick-dry glue and Styrofoam balls either the size of golf balls or tennis balls. Coat the Styrofoam balls in glue and catnip, let them dry completely and then hot glue a corner of yarn to the ball. Wrap the ball until it's completely covered, then add a second protective layer of yarn. When you're done the craft, you can let your cat run loose and watch them play for hours.
Mouse Toy
This adorable toy is made in an amigurumi crocheting pattern — amigurumi is the Japanese art of crocheting little animals. You will need yarn in whatever colours you want for the mouse's fur and ears, along with stich markers, needles and stuffing. Remember to add final touches, like sewingon a pair of eyes, a nose and tiny whiskers onto the mouse.
DIY Feather Wand
First you will need to make some big pompoms out of soft and chunky yarn—make sure the yarn is thick, so that the pompoms are fluffy. When you're done making pompoms, tie them onto a leather strap or a longer string of yarn. Add some extra feathers and ribbons to the end of the end of the strap, and make sure they are tied on tight. Drill a hole in a small wooden dowel and loop the strap through the hole, and knot it so it won't come loose. Then you can dangle that feather wand in front of your cat and see how excited they get to bat the pompoms with their paws.
With a little bit of information and a few cheap supplies, you can craft one or all of these cute gifts for the cat in your life. Your precious pet will be absolutely enamoured with all of their presents and you will be overjoyed with the all of the sweet photos of them playing.