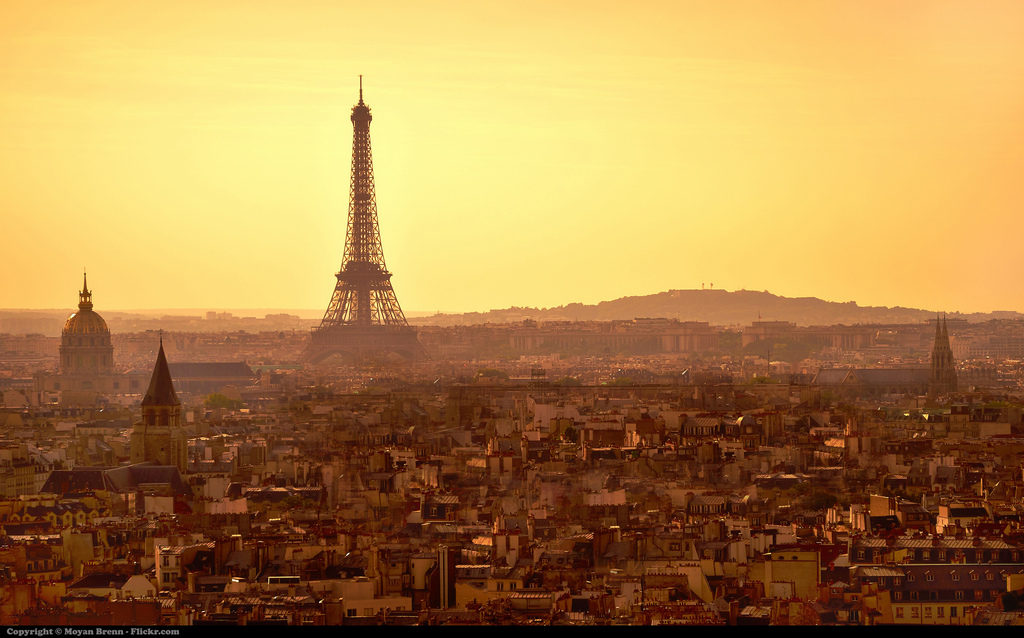 For newlyweds who want both romance and culture from their trip, Paris is the place to be. This history rich city has boulevards for strolling on, picture perfect cafes and wine bars, deliciously decadent restaurants and, of course, museums and landmarks galore.
Where to stay
A great tip for honeymooners is to skip the tourist-laden hotels in favor some private vacation rentals in France. Most homes for rent in Paris are apartments, but depending on your budget, homes are available in the best locations in the city, with breathtaking views. The benefit of renting a space rather than staying in a hotel is mostly the privacy the apartment provides. Furthermore, you'll have all the comforts of a home, including a full kitchen, and, depending on which rental you book, other luxuries such as fireplaces and reserved parking are available too. For an extra cost, chefs and housekeepers can be hired.
If you do choose to stay in a hotel, consider the Pavillon de la Reine. This family owned, boutique style hotel has 54 rooms, and is a perfectly private hideway for lovestruck couples. The highlight of the hotel is its flower-filled courtyard where guests can enjoy freshly prepared breakfast or afternoon coffee. Its also located centrally, within walking distance from the trendy bars and boutiques of the Parais area.
What to do
Make sure you don't lose the romance by fully booking each second of your stay with sights to see and lines to wait in. A big part of the unique beauty of Paris lies in its pretty little streets and grand boulevards. This is a city great for wandering, and taking an afternoon or two to purposely get lost is a wonderful way to enjoy the company of your spouse. In doing this you'll find plenty of great little places to eat and even some boutique stores selling the best French perfume brands. If you get too lost for comfort, you can always hail a taxi back to your hotel.
Make sure to plan in a visit to the ever so famous Eiffel tower. Ask a fellow tourist to snap a picture of you and your lover with the tower in the background, this iconic shot is sure to become a favorite keepsake.
For some tasty tourism, visit the Ladurée bakeshop for some of its famous macarons. This bakery has been in business for over 150 years, and is now known worldwide for its delicious treats.
Spend another few hours feasting your eyes on the masterpieces at the Louvre museum. Its most famous painting is undoubtedly the Mona Lisa, however, this is the worlds largest museum, so there are endless art pieces to admire within its doors.
For your fix of wine tourism, visit the La Derniere Goutte, in the area of Saint-Germain-des-Pres. Make sure you plan this outing to fall on a Saturday, because on this day they host a free wine tasting from 11:30 am until closing time. Here you can sample (and buy) many different wines and learn all about them too. For visitors looking for a more in-depth venture into the world of French wines, they also offer classes (at a cost of 55 euros), held at various times throughout the week.
More: Why spring is the best time to visit Paris
Where to eat
For a low-key evening of delights such as creamy Camembert, crusty bread dipped in walnut pesto, and bright red beets smothered in crème fraiche – all accompanied by a bottle of wine – head to Buvette. This restaurant will be well visible on Rue Henry because of its large windows that are decorated by candles.
Another comforting option is Allard, Paris' classier, finer, answer to the American diner. Here, the wallpaper is charmingly vintage, and the booths are decked in red velvet. Waiters greet guests with a champagne cart, and appetizers are French classics such as foie gras on toast, oven fresh baguette with fresh butter, and endive salads. For a main course, order a steak, grilled medium rare with a buttery crust and accompanied with pomme friet. Make like the French and dip your fries in mayonnaise rather than ketchup for a pleasant tasting surprise.
For a once in a lifetime culinary experience (a splurge perfect for honeymoon travelers) make dinner reservations at the three Michelin star restaurant Epicure, inside the Bristol Hotel. Service here is impeccable, and the food is the perfect intersection between comfort and gourmet. A favorite of many is macaroni stuffed with foie gras, artichoke and black truffle. At the end of your meal, the waitstaff will wheel over a dessert cart carrying grand glass jars filled with chef prepared candies such as chewy caramels, fluffy marshmallows, meringue, nougat and more.
Take your sweetie by the hand and prepare yourself for the trip of a lifetime. Paris is perfectly romantic and the perfect place to start out your married life. Bon voyage, love birds!
You might also enjoy: Best way to see the blue mountains