"Fun fitness" may seem like an oxymoron. Just take a look around the average gym, where men and women strain to support barbells, trudge through a workout on the treadmill or plod through a bootcamp class that just won't end. These are effective ways to get in shape, to be sure, but they lack excitement. They lack enjoyment.
Getting – and staying – fit doesn't have to be arduous chore. It is entirely possible to feel healthy and look great, all while partaking in fun activities. At the very least, you can supplement your normal (dull) workout routine with some fun activities, that way you get the best of both worlds. In this article, let's look at a few activities you can try that marry fun and fitness.
Dance the Night Away
You might think of dancing primarily as a vehicle for partying the night away, but it actually has incredible health benefits. An hour of dancing can burn, for an average weight, anywhere from 360 to 450 calories. And you are strengthening your legs, core and shoulders while you're at it.
The real treat here is that you don't even notice the workout you are getting. If you're anything like most people, dancing is an act of sheer pleasure, and the time flies. Just make sure, if you're dancing at a club, you don't offset those lost calories with too many boozy drinks.
Throw Some Axes
Axe throwing is a fairly new sport, but it is gaining major traction, specifically with people who like the rec league experience but are tired of the same old options, like soccer and softball. The sport involves hurling real axes at wooden boards painted with targets, and is structured as a tournament style face-off. It's ridiculously fun, and surprisingly good for you, as the repetitive throwing motion works a number of muscle sets, as well as your core.
You don't have to join the league to partake in the fun, though; you can book at lane and take your friends axe throwing on the weekend. But be warned: you and your friends will probably get hooked.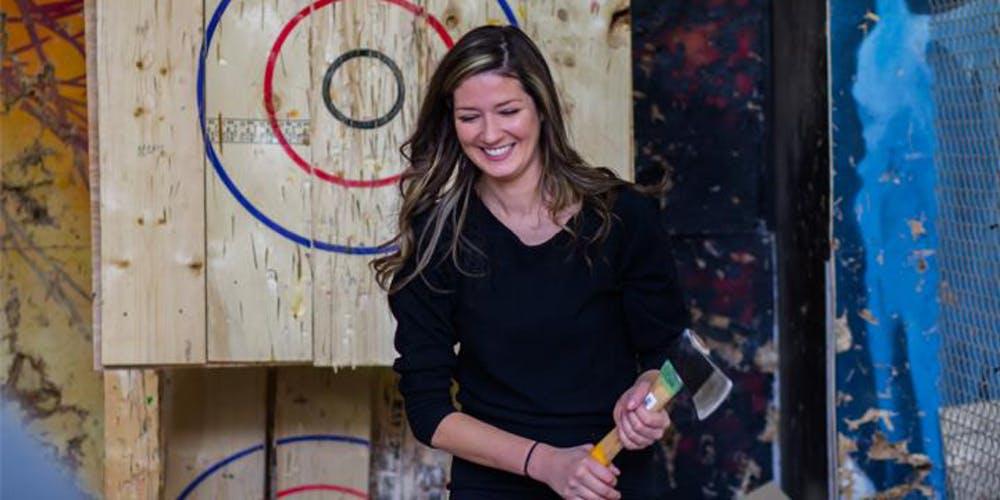 Lace Up Your Skates
With winter officially upon us (in a big way), one way to have some fit fun is to embrace the seasonal activities. Skating rinks – whether indoor or out – aren't hard to find, and make for a great date, or solo weeknight venture. Vogue ran a whole article about how skating is the best winter workout, citing the benefits not only to your physical health, but things like coordination, balance and total body proprioception.
Don't know how to skate? Don't worry. There are plenty of instructors out there willing to take a chance on an adult newbie, and it's a skill that, once acquired, you can use for a lifetime of fun fitness.
Pushing yourself to the physical limit in a pool of your own sweat and tears – that certainly has its time and place. But if you are looking for a more fun way to shed some holiday pounds and tone your muscles, try one of these three entertaining alternatives.