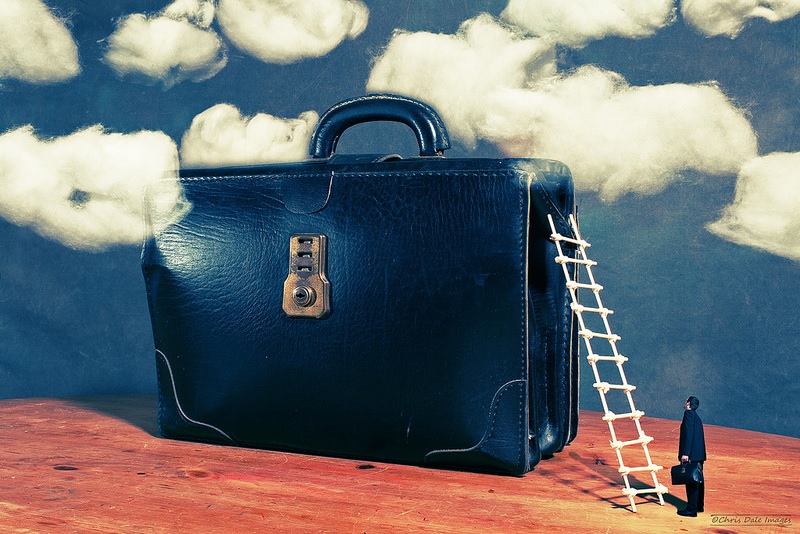 (Image Credit: Flickr)
Hoping to move up the ladder with your current company? Getting promoted at work sometimes doesn't happen on our timeline. Promotions are never a given with a company, and it's become more important than ever that an employee take steps to manage their own career path.
Believe it or not, there are specific actions you can take to make yourself more promotable. Here are just ten ways that you can improve your chances of getting a work promotion.
1. Do a Great Job. What better way to get a promotion than by simply being a rock star at work? How you perform in your current job is going to determine whether or not you will receive top reviews and consideration for another position.
2. Be a Team Player. If you want to move up in the company, you should work on being someone that other people both know and want to work with. This means that you volunteer to be on committees and help out on projects where needed.
3. Strategically Pick Projects. Speaking of projects, you'd be spreading yourself too thin if you've volunteered for everything, so it helps to use some discretion. Business strategist and author Larry Myler recommends that you strategically choose projects that are both profitable and that will give you some visibility.
4. Show up for Work. It seems like common sense, but if you have an attendance problem, you're not going to be first in line for promotion opportunities. Showing up for work on time and avoiding excessive absences just demonstrates that you are responsible and conscientious about your work.
5. Continue to Improve. When your company offers training opportunities or has programs to further your education, take full advantage of them. A business will look at things like professional development and the steps that you've taken to improve your skills more favorably over someone that has decided to rest on their laurels.
6. Notice Your Boss' Interests. This might sound like kissing up, and it is to a degree, but you should attempt to be someone that your boss enjoys having around. So, instead of just tucking into the daily grind, notice and ask your boss about their interests. If they enjoy football, mention last night's game.
7. Give Away Some Credit. If you expect to be promotion material, other people need to like you. This means that you should avoid hogging the credit for everything that you touch. Take the time to make your boss and other managers look good. It will pay dividends down the road.
8. Become an Expert. Another way to earn a promotion is to become indispensable to your company. You can be a go-to liaison for a client or supplier or develop a system that your company comes to rely on.
9. Outline Your Goals. The question may or may not be asked when you are first hired or during a performance evaluation, but your intended sales career path shouldn't be a secret. If you want to move up the ladder, let your manager know that you are working towards that next promotion.
10. Ask for the Job. When an opportunity becomes available in your company, don't just sit back and hope that your manager will stop by your office with a nudge. Ask for the job! Remember when you outlined your goals for your manager? If you've done this, they won't be surprised when you apply for a promotion opportunity.
Whether you're looking for a flashier title, more money, or just want to take the next step up on the ladder, promotions usually require some planning and participation on your end. Use these tips to increases the chances that you'll get noticed for a promotion and shortcut the time that you'll need to wait for that next raise.