Whether you are 18 or 45, your wedding day is one of the most important and happiest days of your life. It is the special event that marks the occasion when you make a life-long commitment to your significant other. Your families and friends will be there and you will be presented for the first time as a legally married couple. For this reason it is understandable that both of you want everything about that day to be perfect and memorable.
After selecting from a variety of wedding dresses your favorite one. The best way to get things started and keep the special tone of the festivities is by selecting the right company to create invitations to the various affairs related to your weeding. There are a series of events leading to and ending with the wedding. For each of these, you will need invitations. And whether it is engagement invites, or others for the bridal shower, rehearsal dinner, bachelor party or the wedding, they need to be exceptional.
By selecting Basic Invite to supply the invites to each of your wedding related events, you get everything you need in one place and let all of your guests know that they are truly appreciated as well.
Basic Invite
Basic Invite is a complete online resource that helps you to easily design and send your invitations to your mailing list. Whether it is a basic bachelorette party invite or a detailed multi-fold wedding invitation, you have to tools to create it and make it look fantastic.
The company also helps you to create your very own wedding website where you list the details of your special dates along with directions for any of the events relating to it from the engagement party right through to the wedding reception.
Basic Invite places everything in one easy locations for you and guests and makes it accessible at any time and from any device. In fact, the resources are designed to work perfectly on mobile phones, so no matter where you or your guests are, everyone can be reached and kept up to date.
Here are a few of the fantastic Basic Invite features and benefits:
Choose from Over

800 Wedding Invitation Sets  
Your Wedding invitations are sold individually or as a set. If you purchase a set, each includes: Every invitation you need from your wedding shower invitations to your Wedding invitations, and also Save the Dates Cards, Enclosure Cards, Wedding Menus, Wedding Programs and even matching Thank You Cards! You can purchase all or whichever ones you prefer. 
Invite Designs:
You can order your invites in more than 180 different colors and styles. Many elements of each design can be changed to perfectly fit your desired look and feel. We update the offering constantly and our newest additions are: a clear collection, seal and send invitations, we have added rose gold to our foil line, and we have introduced foil place cards.
You can instantly preview your choices online and match them against other ideas you have. They focus on the little details to make sure you never have to compromise. You can also choose from over 40 different envelope colors, and each are peel and seal.  
Order Custom Printed Samples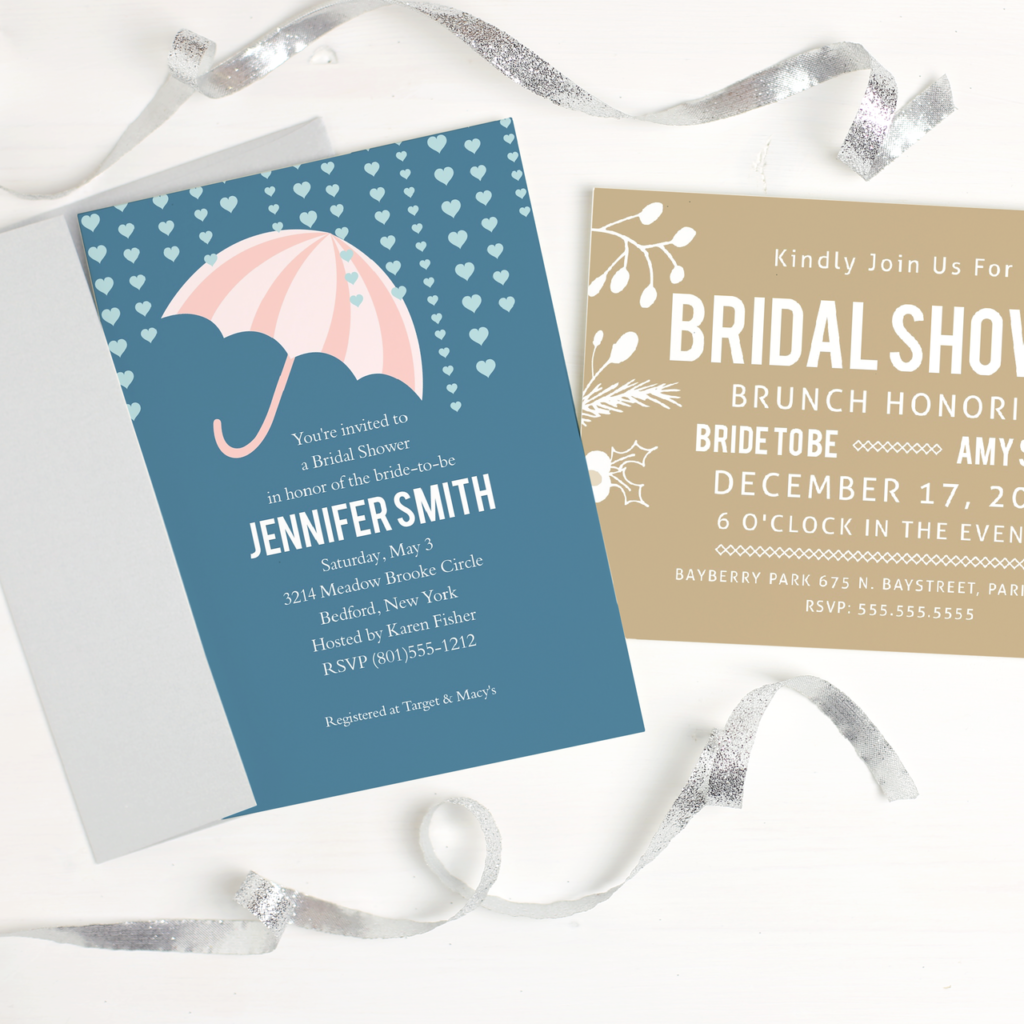 Sometimes you just cannot decide on an invite when viewing it online. Basic Invite is one of the few websites that gives customers the ability to order a printed sample of their desired invitation. Having it in hand allows you to review the colors and the look as well as the paper quality before you place their final order.  
Free Address Collection Service
Basic Invite offers a free address collection service to get the mailing information from your guests. Simply share the included link, collect addresses, and send your rehearsal party invitations or other important invite to your entire mailing list. You get free envelope printing for each invitee.  
Keepsake Guest Books
You will want to keep your wedding memories forever and what better way than with a personalized wedding guest book. The Basic Invite Wedding Guest Books are both classy and convenient and provide the perfect opportunity for your wedding guests to express their leave sweet words and well wishes to you and your new spouse.
Basic Invite will remain a trusted and helpful friend throughout your marriage. The company also helps you to commemorate each year of your wedding with a fully customizable anniversary invitation card that you can send out to your mailing list. Use Basic Invite to help you bring everyone together to celebrate each year of your marriage in style.