If you find yourself craving snickerdoodles, ginger snaps, chocolate biscuits, coconut macaroons or lady fingers all day long, you are likely an all-around cookie-lover. As an official cookie-lover you should try as many cookie variations that you can get your hands on, whether you buy them, bake them or throw them together in a hurry. If you need some motivation, here is a quick list of mouth-watering dessert ideas that will whet your appetite for cookies.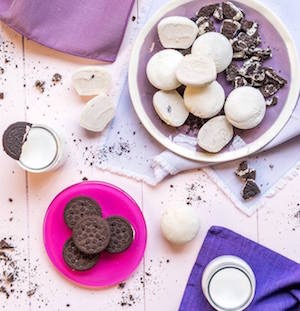 Cookies And Cream
Rich cream and crispy chocolate cookies are a classic combination that rival favorites like chocolate and peanut butter or salt and caramel. If you really love the pairing, you should try cookies and cream mochi ice cream — this is a dessert that will change your entire perspective on how can eat your favorite flavor. The treat is a ball of premium ice cream wrapped with sweetened rice dough called mochi, which gives it a playful and unique texture. You can get a box of cookies and cream MyMo Mochi ice cream if you head to the frozen food aisle at your nearest grocery store.
Chocolate Chip Cookie Dough 
It's tempting to skip the whole baking process after whipping up a fresh batch of chocolate chip cookie dough and dipping your spoon right into the mixing bowl. It's commonly believed that the uncooked egg could lead to salmonella, which is why many bakers make eggless cookie dough recipes for people to eat without worry. If you can resist eating the entire bowl of delicious dough, you can make incredible desserts that go above and beyond a tray of classic chocolate chip cookies. Here is a short but helpful list of scrumptious cookie dough dessert ideas to give you some inspiration in the kitchen and get your stomach grumbling:
Chocolate chip cookie dough fudge
Chocolate chip cookie dough cupcakes
Stuffed chocolate truffles
Cookie dough brownies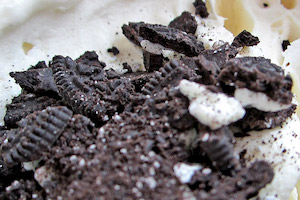 Cookie Crumble 
Sometimes a cookie doesn't have to be the main focus in order to make a dessert taste special. The ingredient can be the final touch to a dish instead of a dollop of whipped cream, a dusting of powdered sugar or a maraschino cherry. All you have to do is take your favorite kind of freshly baked or bought cookie and then crumble it up with your hands — for a more consistent crumble, place the cookies in a freezer bag and break down the pieces with a rolling pin. The crushed or powdered results can be mixed into a luscious peanut butter mousse, sprinkled onto vanilla puddings and other sweets that need a little something extra.
If you'd rather buy your dessert instead of work away in a kitchen, you can get some cookies and cream mochi ice cream to soothe your cravings. If you have a passion for baking, you can mix in chocolate chip cookie dough or crumble baked cookies on top of a number of outstanding recipes. There's no wrong way to indulge in your favorite treat, so get the version that you like best, pour yourself a tall glass of cold milk and dig in.